Pollution and sanitation problems in North-western Syria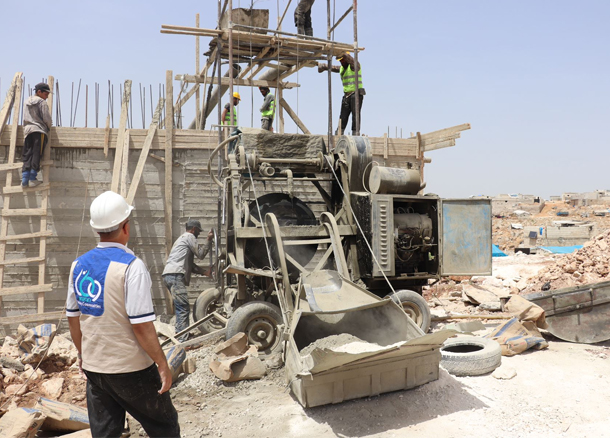 Watan completed works on the sewage network with the coagulation drilling in each of the camps (Al-Baraka, Sa`ed, Al-Eis, Wadi Al-Ain, Jabal Al-Hoss, Taiba and Al-Nouri) in the countryside of the Idlib Governorate. This was part of the "Water, Sanitation and Hygiene Emergency" project in partnership with the International Organization for Migration (IOM).
This intervention was not the first of its kind, as this type of project has been carried out by Watan before and Watan was the first to do so and was also approved by the International Organization for Migration (IOM) along with the rest of its partners. We can see the importance of this project since the pollution due to sewage waste was finally eliminated and it was also beneficial for agricultural purposes. At the end of the newly implemented sewage network, in each camp, there is a septic tank/ clotting pit 12.40 x 4.30 wide and 2.25 meters high. The sewage passing through the pit receives a non-aerial treatment, providing water suitable for irrigation.
Among the benefits of the intervention is the large savings made, that are usually spent periodically to empty the septic tanks. It also saves from having to drill holes in the rocky ground and has gotten rid of the odours and marshes, that formed due to the traditional drainage methods and lead to the spread of infectious diseases.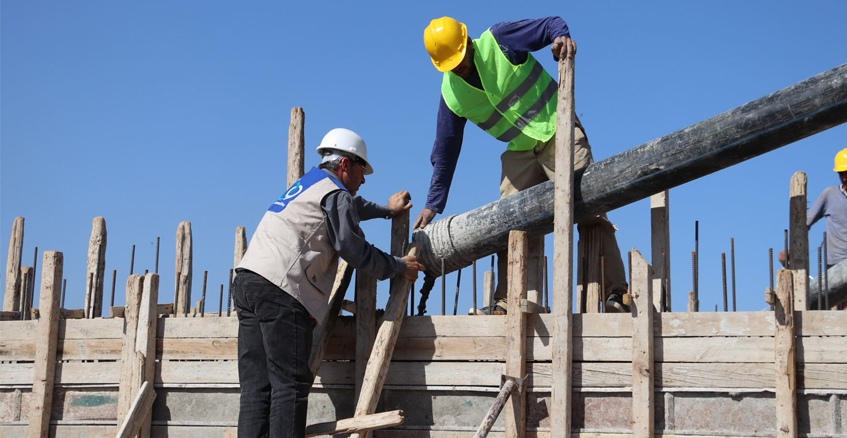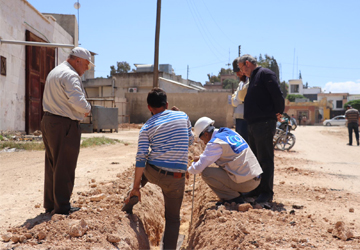 More than 2,500 families have benefitted from this intervention, totalling an estimated number of 13,900 individuals.
The project also continues to provide water and sanitation services to support the displaced, in each of the camps: Afamea, Al Barak, Saed, Shohada' Al-Janoob, Al Eis, Al Burj, Al Yamamah, Al Salim, Jabal Al Hoss, Ajyal, Al Abyad Al Jadeem, Al Abyad Al Jadeed, Najma, Wadi Al-Ain, Tajamo' Al-Sahara, Al-Mousa, Shermagar, Al-Maqala, Sakia, Al-Youssef. All of which can be found in the regions: Dana, Kafrlossi, Baska, Sarmada, Batpo, Hazano, Kfardaryan, Termanin, Burj Al-Namra.
For the ninth month in a row, Watan continued to operate providing those displaced with sterile water tanks, services to transfer solid waste and empty septic tanks, as well as constructing bathroom blocks. In addition to this Watan has continued to distribute hygiene baskets, garbage containers and filling tanks. Periodic sessions to promote personal hygiene are being held, with seminars to educate the attendees on the disease. Protective equipment is being distributed to protect against COVID-19, with a planned total of 375 thousand masks sent to the targeted camps.
The number of people who benefitted from these services reached more than 39,100 members of the camp population, approximately 7,090 families.
The project contributed to increasing personal hygiene, reducing the spread of disease, particularly from the spread of COVID-19 and supporting families with limited incomes, those with special needs, and reducing the financial burden on them.